SHOULDER PAIN TREATMENT IN SUGAR LAND​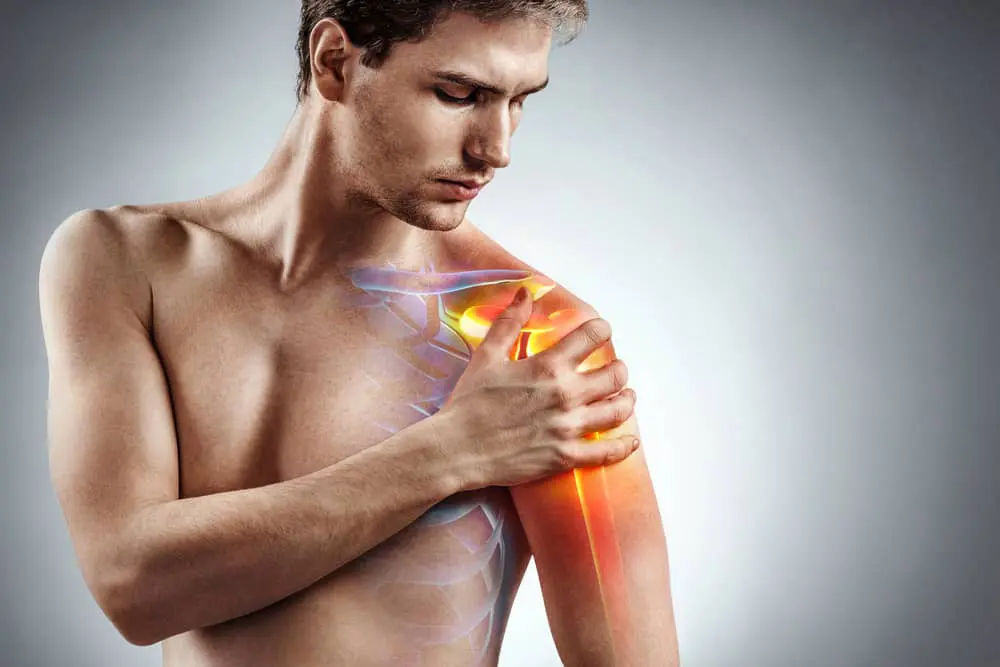 Whether you are in sports, a parent, student, etc... it doesn't matter because shoulder pain affects many more people than you may think. Below, you will find info on why you may be experiencing shoulder pain, and how chiropractic shoulder pain treatment in Sugar Land can help you without the risks of surgery or drugs.
Hogan Spine & Rehab: Your Source for Non-Surgical Shoulder Pain Treatment
What's wrong with my shoulder? It's a common question our chiropractors at Hogan Spine & Rehab hear. Maybe you've had an accident that caused clear and obvious trauma to this delicate joint. Maybe you're suffering from age-related degenerative issues within the joint capsule. Maybe you've been straining your shoulder tissues without even being aware of it. Whatever the cause, shoulder pain is not to be taken lightly. Your pain may disable you to the extent that you can't perform your job, play your favorite sport, or even find a comfortable position when at rest.
The good news is that you can most likely resolve or manage your shoulder pain without surgery. Here at Hogan Spine & Rehab, our chiropractors can administer a variety of non-surgical techniques to treat shoulder injuries and chronic pain conditions in Sugar Land, TX.
Physical therapy is a non-invasive and effective treatment for shoulder pain. Physical therapists use a combination of exercises, stretches, manual therapy, and other modalities to improve shoulder strength, mobility, and function.
Regenerative medicine is an innovative and emerging field that offers promising treatment options for shoulder pain. Regenerative medicine treatments involve using the body's natural healing mechanisms to repair damaged tissues, rather than relying on drugs or surgery.
Regenerative medicine offers several innovative approaches to treating shoulder pain that can help to alleviate symptoms and promote healing. Some of the most promising approaches include:

Connective Tissue Matrix: CTM can help alleviate shoulder pain. These treatments often involve injecting growth factors and other healing components into the affected area to stimulate the body's natural healing processes.
Mesenchymal Stem Cell Therapy: In MSC therapy for shoulder pain, stem cells are harvested from the patient's own body and then injected directly into the shoulder joint. The stem cells can then differentiate into the specific cell types needed to repair damaged tissues in the joint, such as cartilage and tendons.
The Potential Causes of Your Shoulder Pain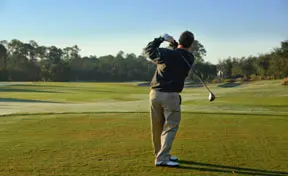 You may be in pain without having any idea what part of your shoulder is actually injured or ailing. This joint contains many working parts -- and those parts must work together if the entire joint is to function properly and without pain. Sometimes the damage is immediate and obvious -- as in a dislocation when the upper-arm bone actually pops out of the socket. An acute soft tissue injury such as a tear in the rotator cuff (the set of tissues that mobilize the shoulder) can suddenly make any shoulder movement impossibly painful.
But other causes of shoulder pain can take their time, gradually getting worse and worse as degenerative inflammatory processes take their toll. Repetitive motion injuries are a case in point. Baseball pitchers have a 50 percent chance of developing shoulder pain during their careers, thanks to the constant overhand shoulder motions they must employ. Tennis, golf, or even working conditions that keep the shoulder working hard may lead to constant inflammation and strain, resulting in tendinitis, bursitis, and other painful problems.
Even ordinary wear and tear can eventually produce osteoarthritis in the shoulder. In some cases, shoulder pain doesn't stem from a shoulder problem at all; it's actually referred pain from the cervical spine.
Chiropractic Care Can Get Your Shoulder Working Again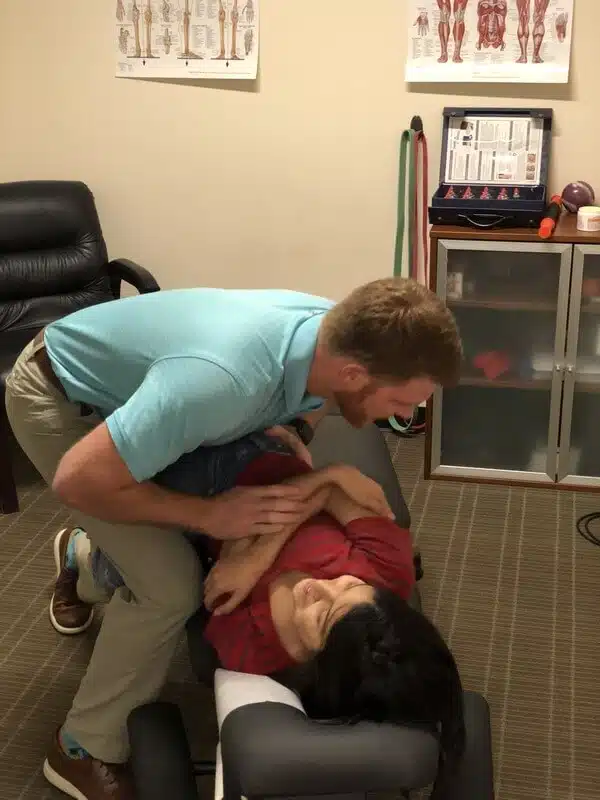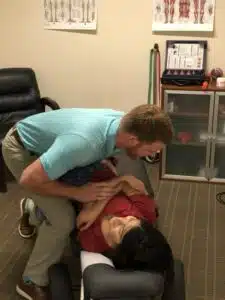 Chiropractic care offers advantages over other shoulder treatment strategies. Drugs, for instance, can reduce pain and inflammation temporarily, but they can't correct the structural problems behind the pain. Surgery is usually unnecessary, not to mention costly, painful, and destructive to tissue.
The chiropractors on our team can help your shoulder heal itself the natural way, freeing you from the need for painkillers or surgical procedures. Our advanced diagnostic techniques can reveal the exact cause and location of your shoulder pain, allowing us to treat your problem at its source. If you're an athlete of any kind, our FMS Screening Assessment can even identify faults in your functional movements that may be causing some of your problems.
Your Shoulder Pain Treatment Plan
The elements of your individualized shoulder pain treatment plan will vary according to the type of shoulder problem you're experiencing. Our techniques include:
Come Visit Our Chiropractors in Sugar Land!
With four offices conveniently located in Sugar Land, TX, Hogan Spine & Rehab makes it easy for you to get the shoulder pain treatment in Sugar Land you need. Give your quality of life a dramatic boost by calling our office and scheduling an evaluation. Our chiropractors look forward to taking that burden of pain off of your shoulders!