Neck Pain Treatment In Sugar Land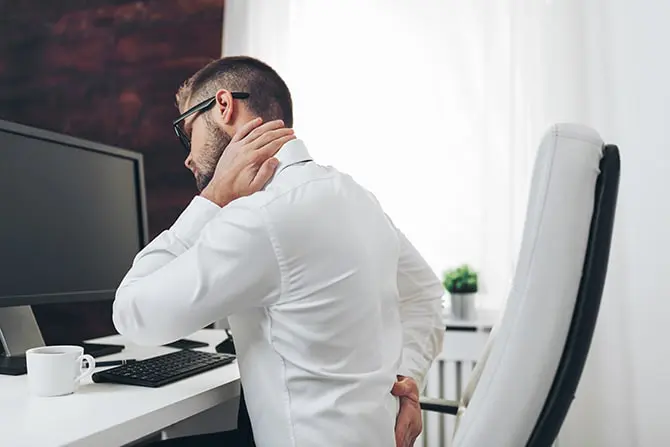 An aching neck can be a serious problem—causing you difficulty sleeping, lost work and perhaps even making you miss the things you love to do in your free time.
So what should you do to fight this pain? In many cases, chiropractic care can be the ideal solution. Learn more about the different causes of neck pain and how our Sugar Land chiropractor can help you reduce it. Call now for a neck pain treatment In Sugar Land!
Typical Causes Of Neck Pain
There are many things that can cause neck pain. Since it supports your head, it is in a precarious position and at risk for injury. Some of the most common causes of neck pain include muscle strain, worn joints, nerve compression, injury from accident and diseases (such as cancer or arthritis). While a chiropractor can help in some cases, in others you may need to visit a neck doctor or general practitioner to get a better idea of the full range of care necessary to get you back to good health.
Neck Pain Treatment Options
Physical Therapy can be an effective treatment for neck pain through stretching and strengthening exercises, manual therapy techniques, posture training, heat and cold therapy, and education on preventing further injury. It is important to consult with a licensed physical therapist to develop an individualized treatment plan that addresses your specific needs and goals.
Regenerative Medicine is a rapidly evolving field that focuses on using the body's natural healing mechanisms to treat various medical conditions, including neck pain. Regenerative medicine therapies use various treatments such as Connective Tissue Matrix and Mesenchymal Stem Cell Therapy to promote tissue regeneration and healing.
Connective Tissue Matrix: CTM injections can help treat neck pain by providing a scaffold for the growth and repair of new tissue, which can help to strengthen and support the damaged ligaments and tendons. The matrix also contains growth factors and other proteins that can help to reduce inflammation and promote healing in the affected area.
Mesenchymal Stem Cell Therapy: MSCT involves the injection of MSCs directly into the affected area, such as the cervical spine or surrounding muscles. The MSCs then work to reduce inflammation and promote tissue repair and regeneration in the damaged area, potentially reducing pain and improving mobility.
Chiropractic Treatment & Services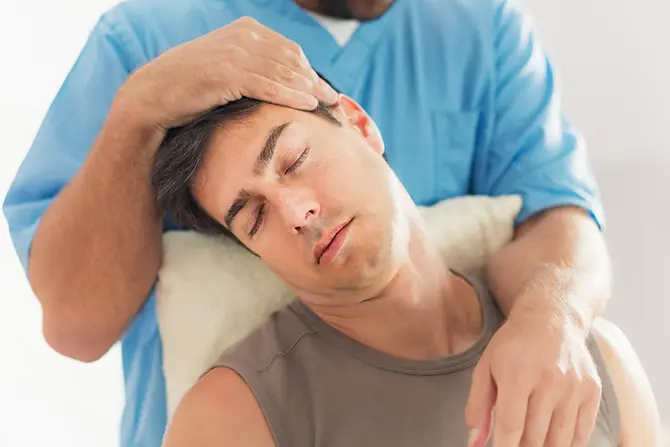 Chiropractic Adjustments
Back Pain Treatment
Spinal Exams
Sciatica Treatment
Auto Accident Recovery
Joint Pain Treatment
Mesenchymal Stem Cell Injection
Class IV Laser Therapy
Personal Injury Rehabilitation
Postural Screenings
Knee Decompression
Herniated Disc Treatment
Neck Pain Treatment
Wellness Care
Spinal Decompression
And More!
Chiropractic Adjustments For Neck Pain
Since there are many causes of neck pain, there are many ways to achieve neck pain relief. In many cases, our chiropractor can serve as your neck doctor. Chiropractic care for neck pain can take many forms. Gentle manipulation can include mobilization, manual traction, or the more commonly known neck adjustment. Each chiropractor will have a preferred system of neck pain treatment In Sugar Land and may not use the same methods as another.
What Is A Neck Adjustment?
One common way a chiropractor helps you deal with pain is with a neck adjustment. This is a manipulation of the head and neck. This creates a "popping" sensation that many people associate with chiropractic care. It is important to realize that this type of care routine is highly technical in nature and should only be completed by chiropractors. Additionally, not all chiropractors will recommend an adjustment in all cases of neck pain. In some instances, other forms of gentle manipulation may be the preferred manner of dealing with the pain.
If you are experiencing any neck pain, the best thing to do is to contact our Sugar Land chiropractor at Hogan Spine & Rehab right away. He or she will want to hear more about your particular symptoms and will work with you to help you achieve neck pain relief.
Directions
16525 Lexington Blvd STE 220, Sugar Land, TX 77479 2642