Acupuncture for Chronic Regional Pain Syndrome (CRPS) in Sugar Land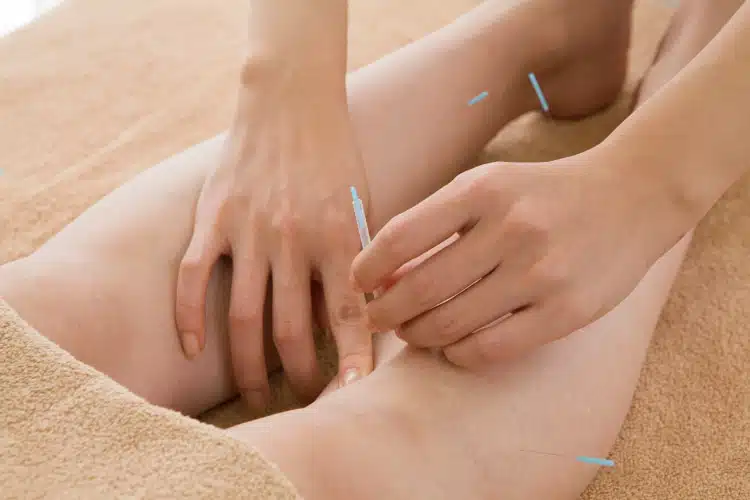 What is Chronic Regional Pain Syndrome?
Chronic regional pain syndrome (CRPS) causes pain, swelling, and burning sensations in your arms, hands, legs, and feet. Although CRPS typically affects one extremity, it could affect both arms or legs. Primary care physicians treat CRPS with prescription pain medications, physical therapy, and steroid injections. Unfortunately, standard treatments like these provide only temporary relief from symptoms of chronic regional pain syndrome. That's why many Sugarland and surrounding area residents are choosing acupuncture for chronic regional pain syndrome over less effective treatment methods.
Acupuncture offers potential benefits for people suffering from CRPS, especially those who find traditional treatment inadequate or unsuccessful. Dr. Reynolds is a board-certified neurologist and acupuncturist at Hogan Chiropractic with in-depth knowledge of CPRS and how to utilize acupuncture and chiropractic techniques that help relieve pain by restoring normal functioning to your nervous system.
What Are The Symptoms?
CRPS symptoms usually emerge gradually and sometimes subside without treatment. One of the first signs of CRPS is a continuous throbbing pain or burning sensation in your leg, arm, foot, or hand. Other symptoms include: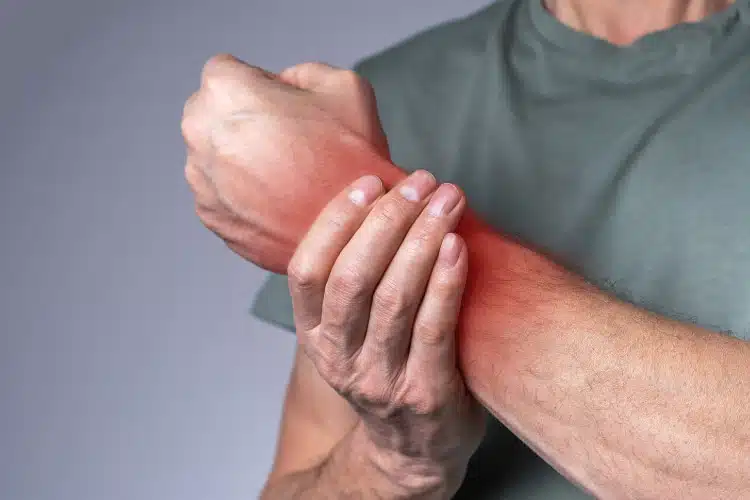 Affected areas are sensitive to cold or touch
Swelling, blotchiness, and redness.
Skin temperature alternates frequently between cold and clammy to hot and sweaty
Skin texture may feel thinner and be unusually sore to the touch
Joint swelling and stiffness
Muscle weakness/spasms/tremors
Reduced flexibility of the affected extremity
What Are The Causes?
Doctors think that CPRS is caused by damage to the peripheral nervous system (PNS). Involved in sending nerve signals from the spinal cord and brain to other areas of the body, the peripheral nervous system also supports the healthy functioning of the digestive system, the circulatory system, and controls skin temperature and sensation.
Over 90 percent of CRPS cases involve people who have sustained some type of trauma to the affected extremity and damage to the sensory nerve fibers that innervate the limb.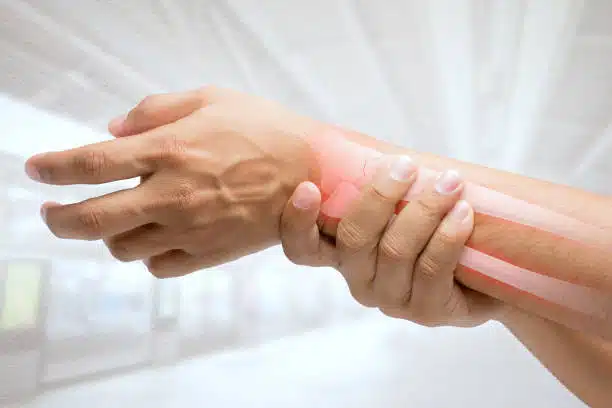 The most common injuries associated with the onset of CRPS symptoms and trauma to underlying nerves include:
Bone fractures, especially fractures of smaller joint bones
Surgical sutures, incisions, or scarring of surgical wounds
Connective joint tissue strains and sprains
Moderate to severe cuts or burns
Types of CRPS
Type 1 Chronic Regional Pain Syndrome
Most people with CRPS have this type, which doesn't directly injure nerves in the affected arm or leg. Also called, reflex sympathetic dystrophy, type 1 CPRS often responds well to acupuncture treatment for CRPS.
Type 2 Chronic Regional Pain Syndrome
This type is diagnosed when peripheral nerves are damaged directly by trauma that severs or crushes peripheral nerves.
Acupuncture for Chronic Regional Pain Syndrome: What Does Science Say?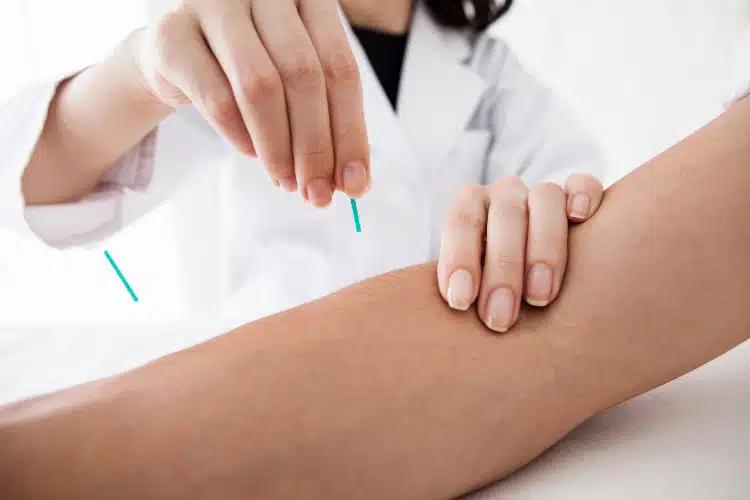 Clinical evidence indicates that acupuncture reduces inflammation and improves blood flow to extremities experiencing symptoms of chronic regional pain syndrome. In fact, researchers think acupuncture works to relieve pain by causing nerve cells to change the way the brain processes pain signals.
One study found that by stimulating acupuncture points along the kidney, heart, liver, and spleen meridians of patients with CRPS, acupuncturists are able to reduce pain, improve their mood, and boost patients' quality of life.
Benefits of Acupuncture for Chronic Regional Pain Syndrome
Pain relief and reduction of inflammation
Improved range of motion and flexibility
Reduction of stress and anxiety
Improved sleep quality
Improved quality of life
Choosing an Acupuncturist for Chronic Regional Pain Syndrome
When searching for acupuncture for CPRS near me, be aware that many doctors claim to be qualified to provide acupuncture treatment for CRPS but do not have the valid credentials that Dr. Reynolds holds. For example, Dr. Reynolds of Hogan Chiropractic is a certified neurologist, doctor of chiropractic medicine, a diplomate of the American Chiropractic Board of Neurology, and has earned a Master's degree in acupuncture.
Don't let CRPS diminish your quality of life. Call our Sugarland office today to schedule an appointment for acupuncture for chronic regional pain syndrome. +1 (281) 240-2225.